Saturday, May 5, 2012
8:19 AM
Christian Lamitschka
No comments
8:14 AM
Christian Lamitschka
No comments
LARRY GATLIN APPEARS ON FOX NEWS CHANNEL TO SPREAD AWARENESS FOR WOODWARD, OKLAHOMA TORNADO VICTIMS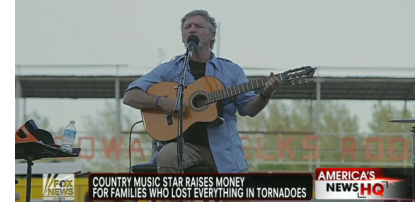 Nashville, Tenn. (May 4, 2012) – Last week, country music legend Larry Gatlin appeared live on the Fox News Channel's America's News HQ, to discuss a recent trip to Woodward, OK where he performed and visited with tornado victims.
Last month, an EF4 tornado ripped through the small town of Woodward, OK, killing six, injuring 20 and destroying more than 80 homes.
Gatlin, watching the news coverage from his home, was inspired to write a song, "I Can Build Another House," and posted it on YouTube (view HERE).
Shortly following the post, the town of Woodward discovered the song and reached out to Gatlin's management. The next day, Gatlin was on a plane, headed to Woodward to perform a benefit concert for the tornado-devastated town.
To date, more than $175,000 has been raised for Woodward, OK. Donations can be made by phone by calling Woodward, OK's American Red Cross at 580-256-3828, or by clicking HERE.
Watch Gatlin discuss the Woodward, OK tornado devastation on the Fox News Channel's America's News HQ, HERE.
Posted in:
Country Music News